The 7 best temporary hair color products for kids to try
You might even want to try one of these cool, colorful options for your own hair too!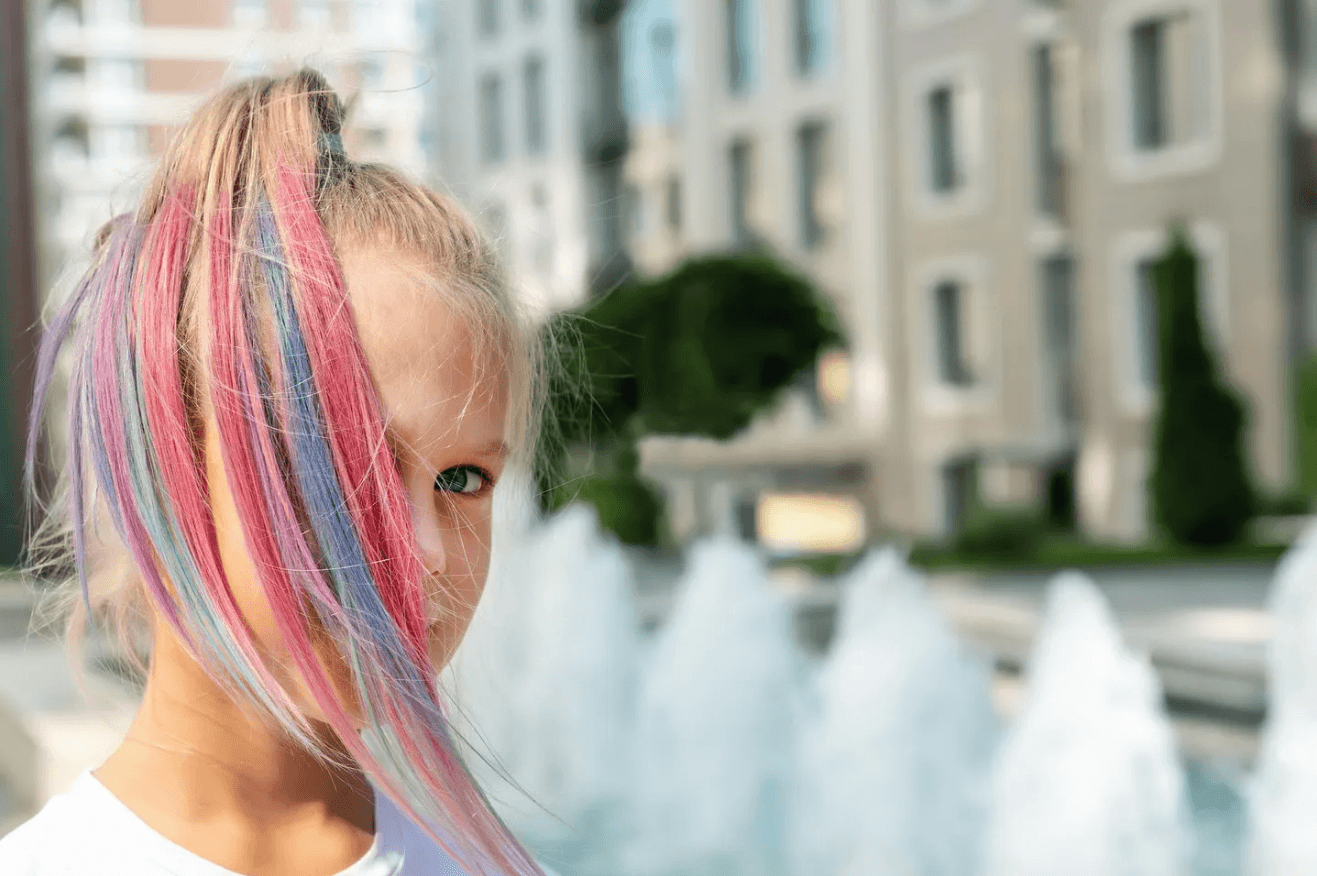 We independently select and share the products we love—and may receive a commission if you choose to buy.
If you're interested in trying a temporary hair color for your kids (because let's be honest, pulling that permanent hair color trigger with our children isn't necessarily something we're ready for), you're in luck. First things first though: can we all agree that all hair colors, especially non-traditional hair colors and temporary hair colors, are having A Moment?
Maybe it was the monotony of the pandemic, but it feels like every social media outlet is rife with gorgeous photos of bold, gem-toned hair on people of all ages. Kids, too, are even getting in on the trend—whether it was for back-to-school or just for fun one random weekend. So chances are, if you have children in your home, they're going to be begging you for blue hair. Or magenta hair. Or, better yet, rainbow hair. And why not? It looks so cool!
How long does temporary hair color last?
Not long! Since temporary hair dye only coats the outer layer of the hair (whereas permanent hair color bonds with the inside of the hair cortex), it simply washes out after a short period of time. Depending on the type of hair your child has (some hold dye better than others), temporary hair color may wash out after a couple shampoos, or may last a bit longer, but it does not permanently alter the hair as regular hair color does.
Related: The eco-friendly kid shoes that are worth every penny
Does temporary hair color damage hair?
Temporary hair color does not lead to the chemical reaction with the hair in the way permanent hair color does, and does not cause the damage that the bleaching of permanent dyes might cause. Because the dye stays on the outside of the hair shaft as an outer coating, it simply washes out after a shampoo or two with little or no damage to the hair.
Related: The eco-friendly kid shoes that are worth every penny
Temporary hair color products are safe, easy, affordable ways for kids to be able to freely express themselves via their hair, which is an awesome gift to give them. If you have any questions or concerns, ask your hairstylist or someone at a local salon.
Many parents are ready to (temporarily) indulge this trend for kids by saying yes to bold hair colors, which is why we've compiled the best, safest, most popular temporary hair colors for your kids to try. Hair color for kids come in all forms: color hair spray for kids, colored hair chalk, clip-ins, and even temporary hair dye. These options are, undoubtedly, the best temporary hair color for kids.
Related: The 9 best detangler sprays to make hair brushing tear-free
6 of the best products for hair color for kids
A version of this story was published May 6, 2021. It has been updated.