Young moms are trending on Instagram
The newest crop of influencers just might bring the birth-age down.
When 20-year-old Kylie Jenner introduced her newborn daughter Stormi to the world, I wondered, "should I be thinking about having a baby anytime soon?"
You see, I'm 20 too, and to me it feels like a vague in-between stage of life where I'm no longer a kid, but also not yet a full-fledged adult. I don't feel ready to become a mom, but, like many people my age, I spend a lot of time on social media to see what people my age are up to. And as I scroll down through my social media feeds, it looks like they're up to getting pregnant!
Women in America tend to have children later in life; a recent study estimated 26 as the median age that women have their first baby. But I have noticed a different reality on social media: a lot of moms are young — very young!
It's not just Kylie Jenner, who surprisingly kept her pregnancy private and decided to keep her daughter out of the spotlight. On Instagram in particular, many mom influencers get or got pregnant in their late teens and early 20s. They often share beautiful, glamourized images of motherhood, making it look easy and desirable. And since Instagram is the biggest platform for influencer marketing, this growing presence of young moms is potentially "influencing" many young people to become young parents themselves.
I've noticed this trend in my own entourage, knowing quite a few people my age who are already parents. I can't tell for sure that images on Instagram played a big part in them deciding to become parents early in life; but I see that, just like many of the young momfluencers, their Instagram feeds revolve a lot around motherhood.
While I'm still not sure I'm ready to jump into motherhood yet, these little squares on my screen give me hope for when that time comes.They tell me that life can be fun with kids around; and seeing young women owning their role as moms -- whether they choose to work at home, stay at home, travel or go back to work -- makes motherhood more accessible and less frightening for all of us.
Here are 10 young Instagram momfluencers I've got on my feed:
1. Acacia Kersey @acaciakersey
Age: 20
Followers: 2 million
What she posts about: Acacia Kersey, previously Brinley, had a significant following before getting pregnant at 18; but more and more people have followed along her journey, as she's documented every step -- from pregnancy to birth to how she and her husband are raising their daughter. Two years later, Acacia is pregnant with her second child.
2. Lilly Bennett @lillybennett__
Age: 17
Followers: 39K
What she posts about: Lilly Bennett got pregnant when she was 16 years old and dedicates a big portion of her Instagram account to the growth of her daughter, Aaliyah Rose, and to her life as a teen mom. This includes "real" images of herself as her postpartum body and her journey to getting her body back in shape.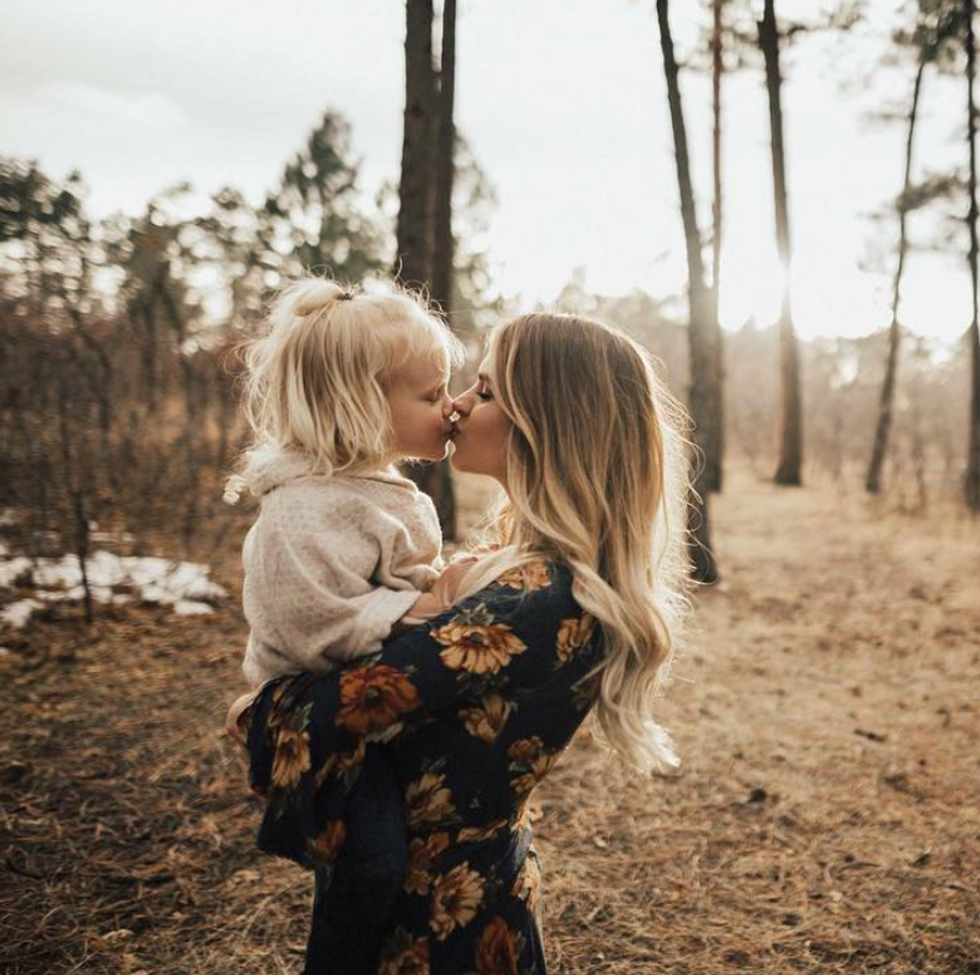 3. T h e r e s e @tsimko96
Age: 20
Followers: 6K
What she posts about:. Therese is a photographer, blogger and a young mom who got pregnant at the age of 17. This Colorado mom features beautiful photos of her family in nature, and she also occasionally showcases some of her work as a photographer. Therese is also expecting her second child, and though she says always wanted to be young mom, her age is not the focus of her feed.
4. Victoria Hemeyer @victoriahemeyer
Age: 27
Followers: 3K
What she posts about:. Though Victoria posts mostly about her boys and family adventures, her feed is full of nature and outdoor experiences. At the beginning of her journey into motherhood, she also posted a lot about balancing her life as a mom with school work and finals.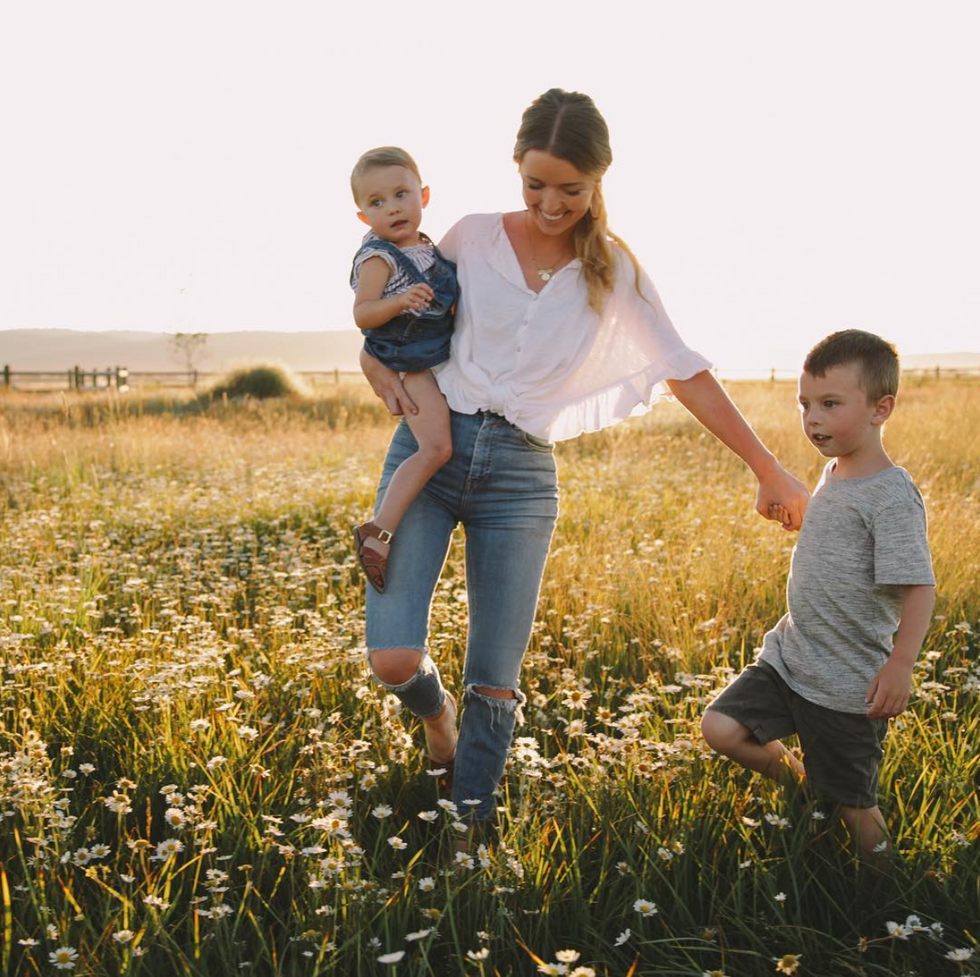 5. Sydney Poulton @sydneyliann
Age: 28
Followers: 53K
What she posts about:. Though her kids are older now, Sydney became a mom at 22 years old and is now well established in the Instagram mom community. As a fashion blogger, she posts a lot about her fashion ventures, but not just. She also shares the sweetest family photos and talks about her adventures with her little ones.
6. Cara Loren @caraloren
Age: 27
Followers: 818K
What she posts about:. Cara Loren is now 27, but she had her first child, Hanes, at the age of 21. The Utah-based lifestyle blogger and influencer writes mostly about fashion, beauty, fitness and parenting. She and her husband, who now work together, have taken their business to a whole new level, with an online shop and various product collaborations, like a diaper bag with Fawn Design. They are now expecting their third child, their first daughter.
7. Sheridan Gregory @sheridangregory
Age: 28
Followers: 67K
Sheridan Gregory got pregnant with her first son at the age of 22. Now a mom of two and married to actor Adam Gregory, she's a lifestyle blogger who focuses a lot on beauty, hair and style. Her YouTube videos consist in a lot of tutorials.
8. Melissa Isaacs @meland2minis
Age: 24
Followers: 1K
Melissa is 24 years old and already a mother of two. Her Instagram feed has featured the ins and outs of her experience as a mother and a mom-to-be. That includes the pretty and the messy -- from the celebration of expecting a baby girl to the messy mom bun.
9. Arianna Aleman @ariannaallen
Age: 21
Followers: 3K
Arianna Aleman is 21-year-old stay-at-home mom. A military wife, she is pregnant with her second baby, and her firstborn is almost a year old. Her instagram feed is all about documenting her journey as mom, and her blog, which she started to keep memories and share parenting tips, is stays raw and "real."
10. Delilah Loeppky @loeppkyslife
Age: 21
Followers: 2.5K
Delilah Loeppky, 21, is a YouTube creator and a mom of one. On her YouTube channel, she documents her life as a mom, going over things like her morning routine and meal planning for her baby. One of her latest videos: all about her baby fever.