The last day of September was a big one for Chrissy Teigen and Target shoppers, as Teigen's new cookware line, the Cravings by Chrissy Teigen collection officially hit store shelves.
We say "officially" because savvy Target stalkers found the collection hit the floor in some Target stores earlier than expected. These early reviewers seem to be pretty pleased with Teigen's designs.
Instagram user Matt Davis posted this shot of his early snag, one of Teigen's new pots and was pretty impressed, calling it "the new hotness" and noting that it's outperformed his regular old pots and pans.
It looks like Davis picked up the 5-quart Aluminum Non-Stick Everyday Pan with Lid in green (it's also available in grey).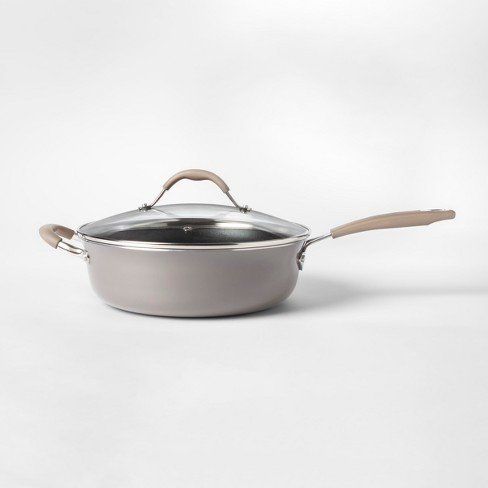 $34.99
Davis wasn't the only shopper to score some Cravings gear early. It was a hit as soon as the tables were set up. We've said it here at Motherly before, it's pretty much scientifically impossible to avoid the so-called "Target effect" and when you add Teigen's designs to the Target run temptation, there's just no way to resist filling a cart. As one Twitter user noted on September 29, "RIP bank account".
The neutral grey and green tones, along with the classic black and gold touches mean Teigen's line fits in any kitchen. And some people are practically re-doing their kitchen with her stuff.
Some sizes in Chrissy' cast iron collection are already showing as temporarily out of stock on Target.com, but the mini size is still in stock and just $9.99.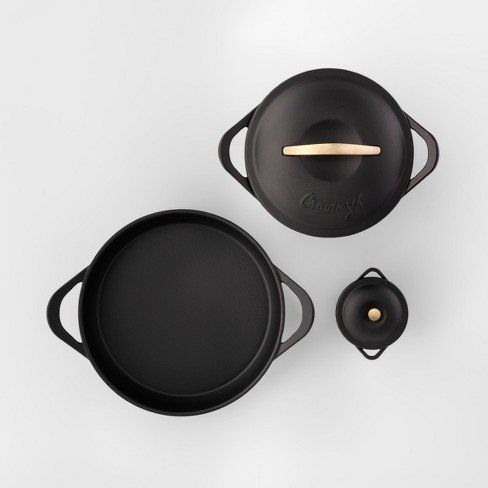 Some shoppers didn't want to take a chance ordering online. One Twitter user noted she called five different Targets in her area to find out which locations were launching the line today. When she got to the store she issued this PSA:
Shoppers aren't the only ones super stoked for this product line. Target team members are very excited too, according to some social media posts.
Of course, the cookware line is the perfect companion for Teigen's cookbook, and people are already cooking up Chrissy's recipes and serving them on her designs.
When the line was announced this fall Teigen said: "I think I'll cry when people start tagging me in Instagram photos of them filled with their delicious food!"
We're thinking John better run out and buy some Kleenex.
Congrats to Chrissy (and to everyone who's managed to snag some of her collection).
Motherly is your daily #momlife manual; we are here to help you easily find the best, most beautiful products for your life that actually work. We share what we love—and we may receive a commission if you choose to buy. You've got this.
You might also like: