9 podcasts that are perfect for your family road trip this summer
Listening to a podcast as a family is a great compromise when it comes to kids and technology use in the car.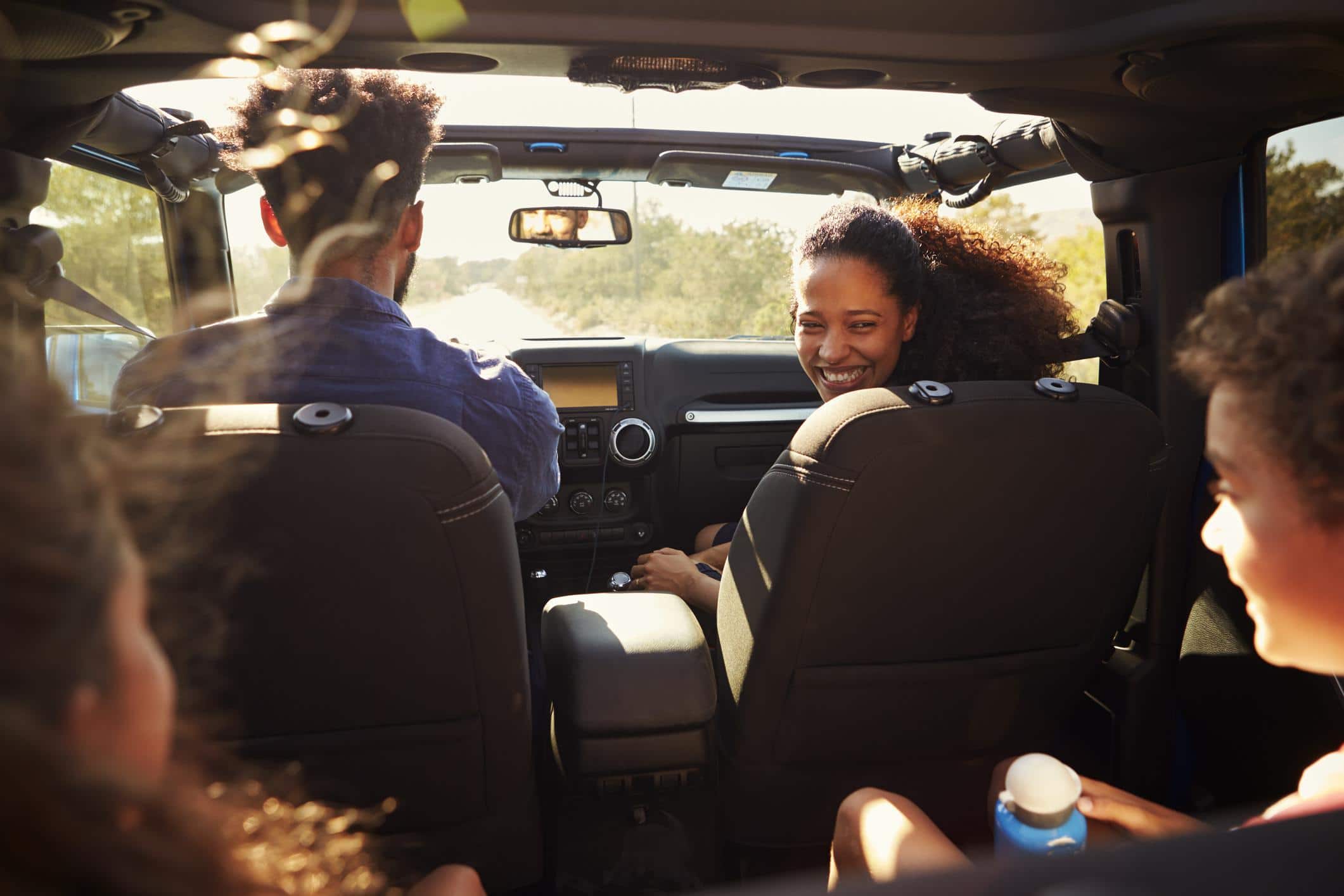 Packing up for a family road trip this summer? Listening to a family-friendly podcast is a great way to keep the kids entertained and compromise when it comes to technology in the car. Podcasts have come a long way since their inception, and you can find something to listen to on just about every topic imaginable—including tons of educational, thought-provoking and creative content for kids. If you're looking for something between total silence due to your kids on headphones watching a screen and Kidz Bop on repeat (and I happen to love Kidz Bop in small doses), you've come to the right place.
With engaging hosts and compelling stories, Commonsense Media reports that "podcasts can be great tools to teach kids about science, history, ethics, and more. Listening to stories helps kids build vocabulary, improve reading skills, and even become more empathetic." I couldn't agree more.
From a podcast that will leave you debating the pros and cons of dogs vs. cats (dogs for sure!) to helping solve an old fashioned murder mystery, to kids telling their own made up stories (complete with sound effects!), there is just a ton of really fun kids' podcast options out there that the whole family will enjoy.
Here are our top picks for engaging podcasts for kids and families. Happy travels!
---
From the makers of the award-winning Brains On!, Smash Boom Best is a debate show for kids and families. Every episode takes two cool things, smashes them together and lets you, the audience, decide which is best. Our debaters use facts and passion to make their case — teaching listeners how to defend their own opinions along the way.
This is a favorite podcast in my family, and it's helped spur lots of fun conversations after the show concluded, which I really appreciate. Some of my kids' favorite episodes include debates on: dogs vs. cats, movies vs. books, tacos vs. pizza and libraries vs. museums.
Best for kids of all ages
Hosts Mindy Thomas (a recent Motherly podcast guest, in fact!) and Guy Roz are at the helm of NPR's first podcast for kids. In each episode, the duo discusses the latest in news and technology with joy and curiosity in a way that's enjoyable for kids and informative for grown-ups. In fact, you can follow up a podcast listen with their new book, Wow in the World, the How and Wow of the Human Body.
Recent episodes have included everything from under the sea creatures and bat conventions to gingerbread houses and lightning bugs. Tune in to learn something new and be entertained at the same time!
Best for kids of all ages
I love the concept of this podcast, because as we all know, kids ask A LOT of questions. But Why podcast relies on listener questions, so everyone can be a part of the show! Children can call in and ask questions, and the host Jane Lindholm will find out the answer. Per their website, "It's a big interesting world out there. On But Why, we tackle topics large and small, about nature, words, even the end of the world." I'm excited to check out this podcast filled with thought-provoking content the whole car will enjoy.
Best for kids of all ages
Motherly's own podcast producer Jennifer Basset is the creator of Kids Tell Stories, which launches in August (listen to the trailer here). On this podcast "by and for kids", children ages 4 to 8 create and record a story as well as select the sound effects and edit themselves. This podcast teaches children audio storytelling and podcasting skills in a way that is entertaining for every listener.
Think your child might like to tell their story and learn more about podcasting? Reach out via Instagram for more information!
Best for kids of all ages
While technically a podcast for adults, American History Tellers is appropriate for older kids and a great way to learn about historical events and "the stories that made America" in an engaging way. From Prohibition to the Space Race, host Lindsay Graham (not the Senator) will take you to the events, times and people that helped shape our nation. By showing the listener how history affected them, families can learn how their actions affect people today.
Best for 9+
An adventure series for the whole family, Eleanor Amplified is about a "world-famous radio reporter" named Eleanor, who foils devious plots and outwits crafty villains, all in pursuit of the big story. We love that Eleanor's adventures are entertaining while being informative. The show has a clear appreciation for journalism, and encourages children to make smart media choices (all while Eleanor is solving mysteries, of course).
Best for ages 8-12
This award-winning podcast adapts folktales from around the world into "sound- and music-rich radio plays for kids ages 3 to 103." (love that!) Each episode of Circle Round explores universal themes like friendship, persistence, creativity and generosity, and ends with an activity that inspires a deeper conversation between children and their grownups.
Recent episodes include The Princess and The Egg and The Goat in the Garden. Perfect for the smallest podcast listeners among us!
Best for ages 3+
Hosts Andrew & Polly and their friends consider "music, science, art and culture in a fun-filled family-friendly podcast that parents enjoy and younger kids eat right up." And they're right! If you're looking for music the whole family can enjoy in your podcast entertainment, Ear Snacks is for you.
Recent favorite episode: Family Mix Tape, which highlights 10 artists making family music these days. Three of these artists—SaulPaul, Pierce Freelon, and Shawana Kemp—introduce themselves and discuss the work of Family Music Forward, a grassroots organization dedicated to equity and racial justice in children's music.
Best for kids of all ages
In this storytelling podcast for kids, host Mr. Eric tells weird and way stories that are inspired by you, the listener! Recent stories have answered these important questions: What if a tiny dragon lived in my closet? What if there were a never-ending bowl of ice cream? What if cats ruled the world? Join characters Abacus P Grumbler, Randall Radbot, and Whendiana Joan as they help Mr. Eric tell wacky stories inspired by your questions!
Would your child like the chance to have their question turned into a story? Call and leave a voicemail for your chance to be featured: 205-605-WHAT.
Best for kids of all ages