Dressing up for Halloween isn't just for kids—make trick-or-treating all the more fun with coordinated costumes for your entire clan! From of-the-moment pop culture references to tried-and-true classics, we've got you covered.

Here are the top group Halloween costumes, according to Pinterest:

1. Mario Kart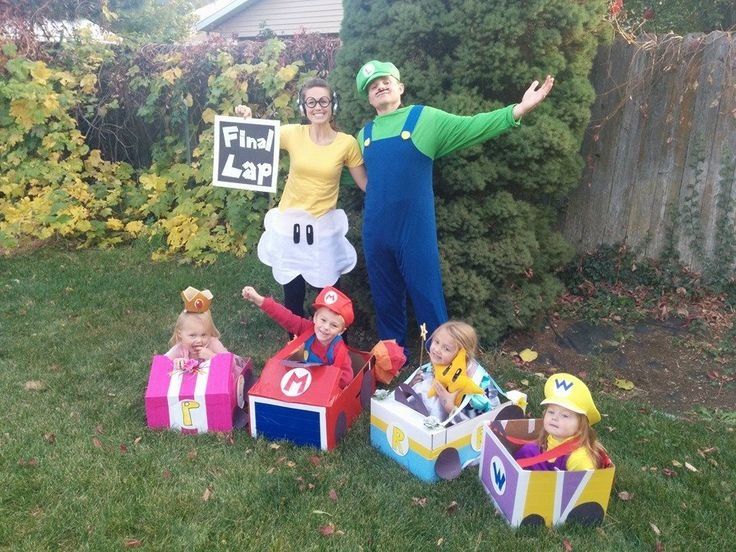 Gather up your favorite squad and "kart" your littles around.
2. Lady and the Tramp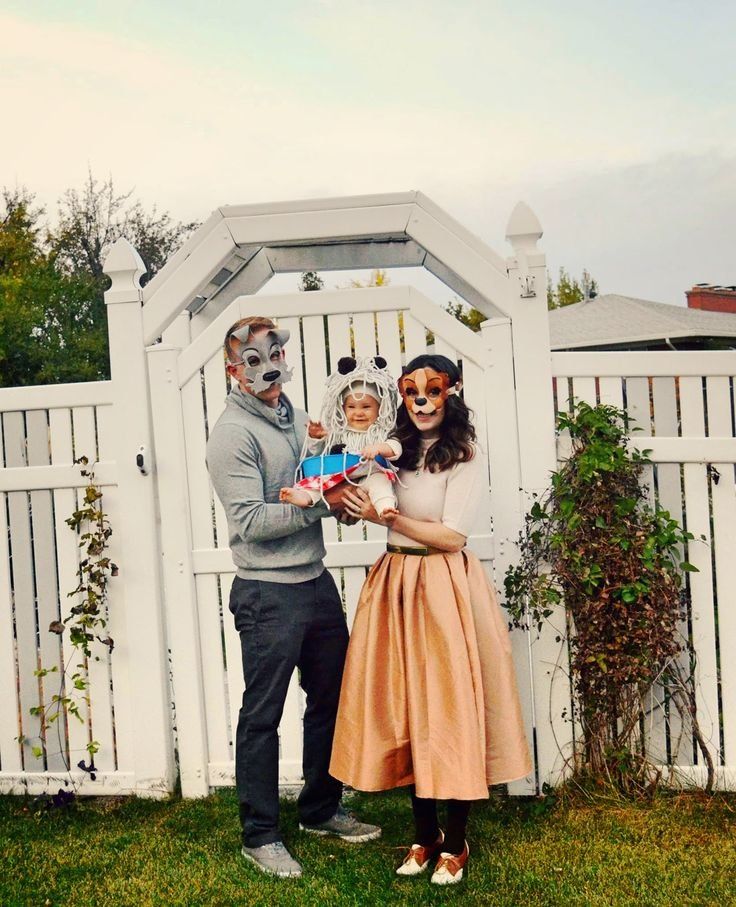 Recreate the infamous spaghetti scene by planting smooches on your little one.
3. Legos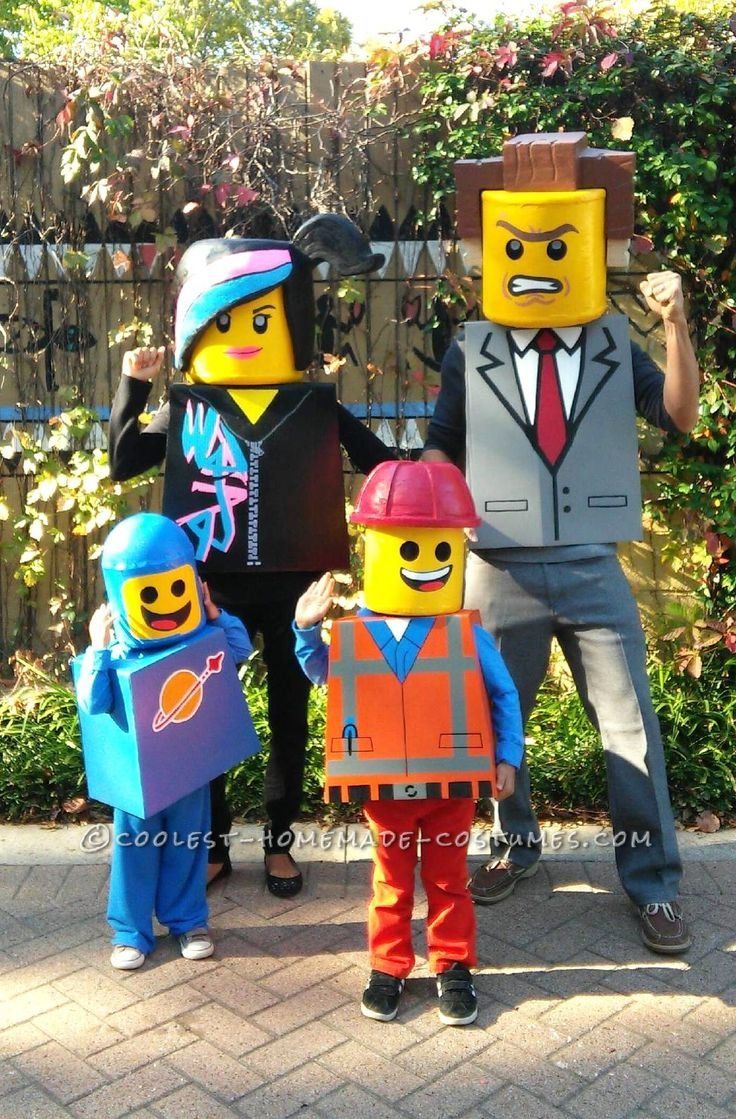 Use your child's favorite stackable toy as the creative inspiration behind this year's costume extravaganza.
4. Beauty and the Beast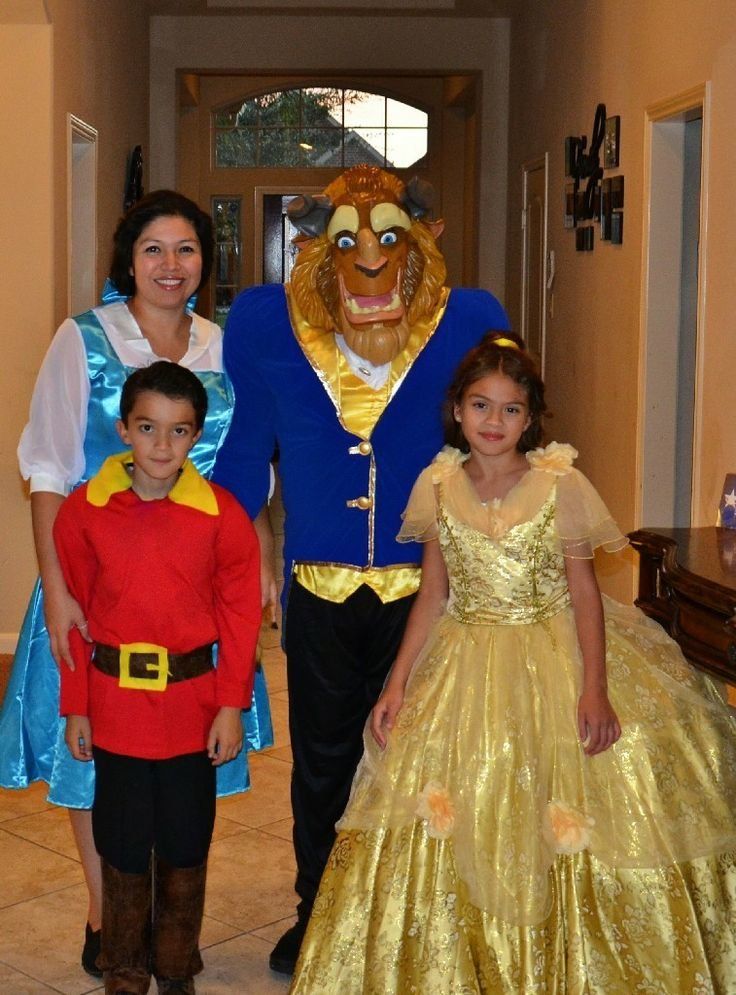 Thanks to the live-action remake, there's never been a better time to "be our guest." In addition to the two main protagonists, there's an entire supporting cast of enchanted castle characters to choose from—including Lumiere, Cogsworth, Mrs. Potts, and Chip—making this an excellent pick for a big family.
5. Peter Pan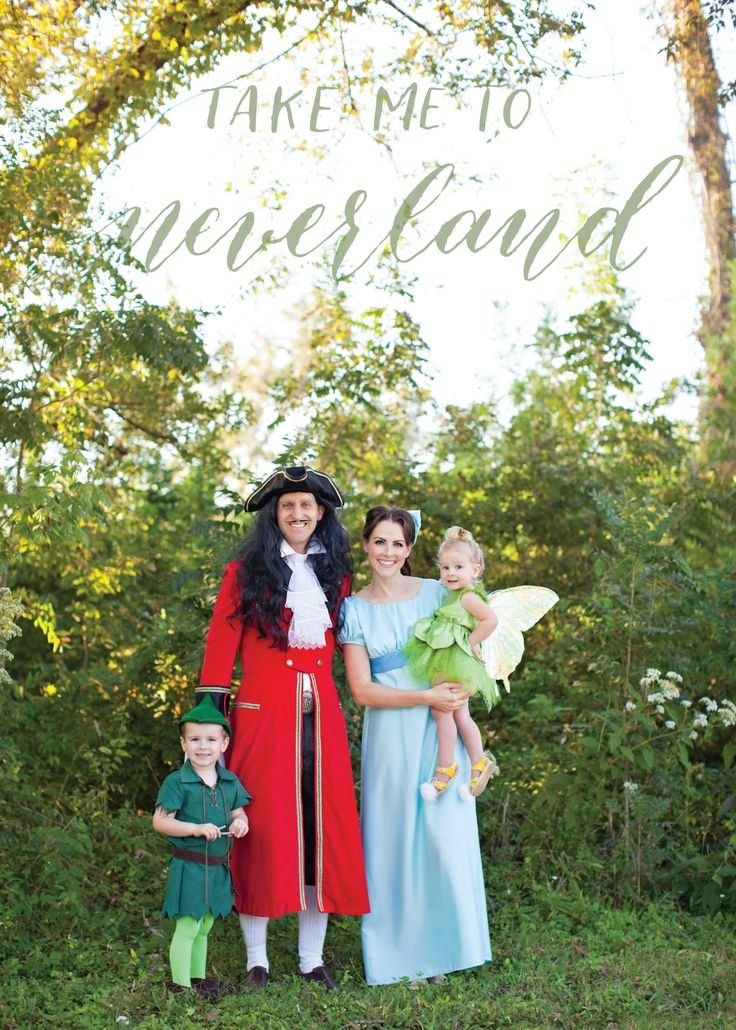 Transport the kiddos to the magic of Neverland by modeling your costumes after Peter Pan, Tinkerbell, Captain Hook, Tick-Tock-Clock Alligator and Lost Boy.
6. Mother of Dragons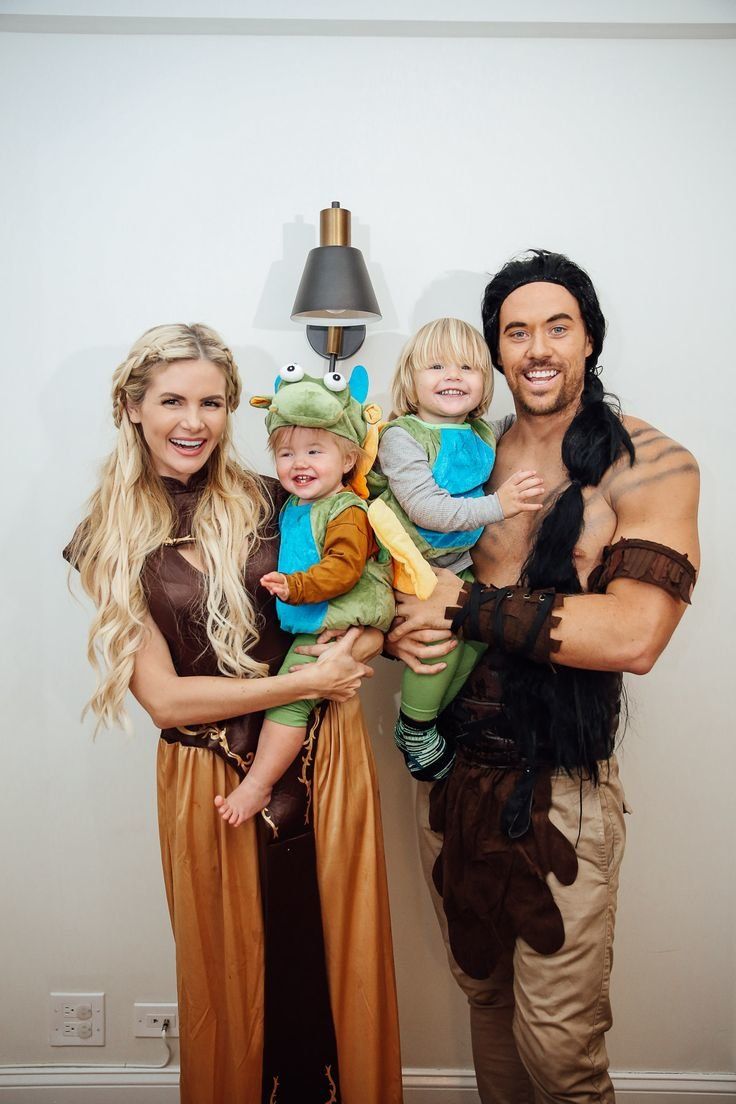 Hooked on Game of Thrones? Get your littles in on the action by going as Daenerys Targaryen and her fire-breathing children. 🐉​
7. Jurassic Park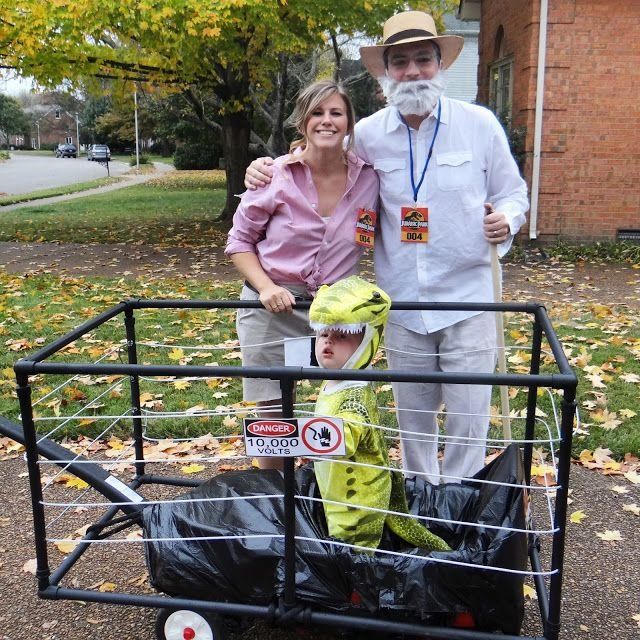 There's a dinosaur on the loose—passerby will get a kick out of this paleontologist getup. Plus, the wagon is perfect for toting around your toddler after they get tuckered-out from trick-or-treating.
8. Aladdin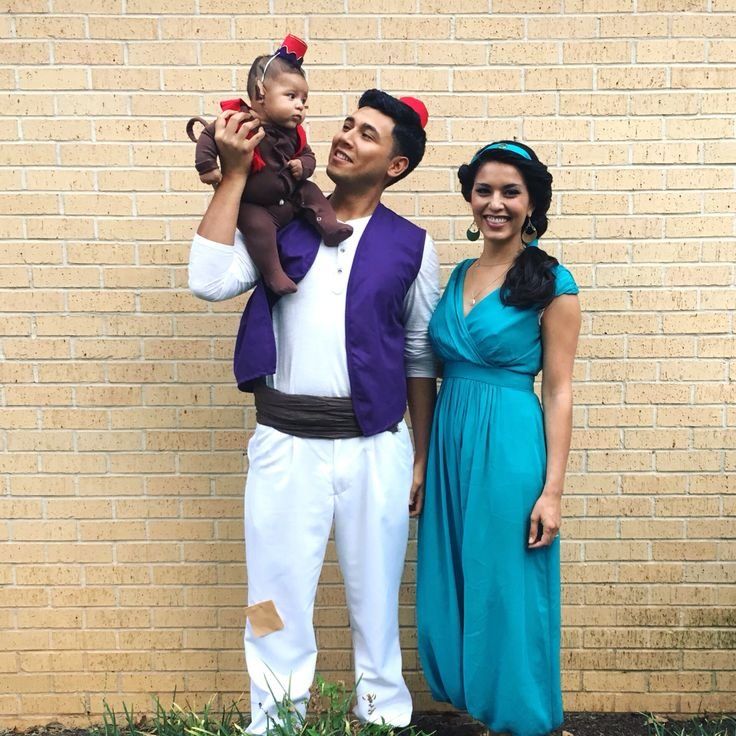 A magic carpet ride might be out of the question but dressing up as Aladdin, Jasmine and Abu is a close second for adventure-loving families.
9. Sandlot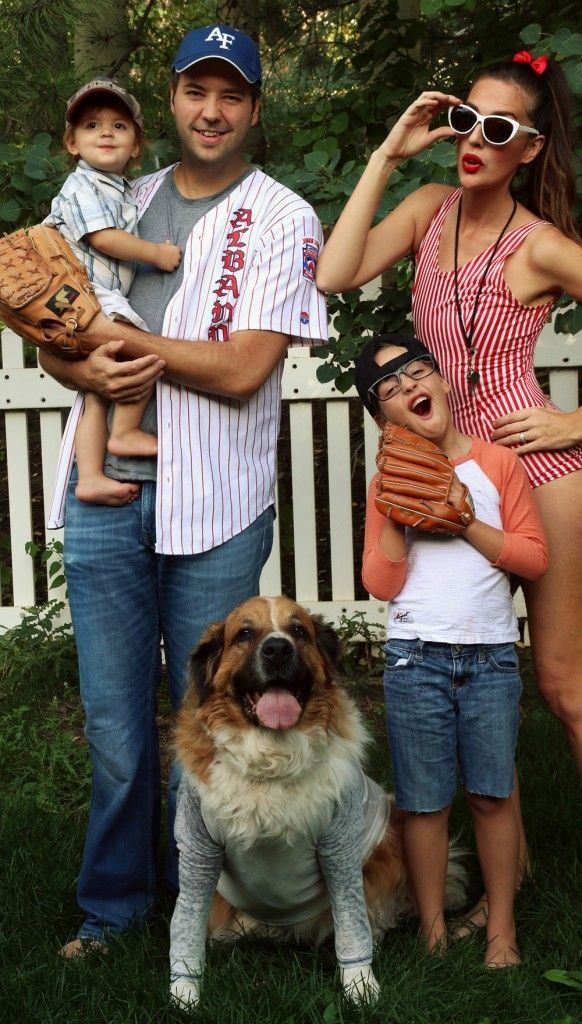 This coming-of-age baseball movie is as nostalgic as it gets, and now you get to pass down your love of the game to the next generation.
10. Care Bears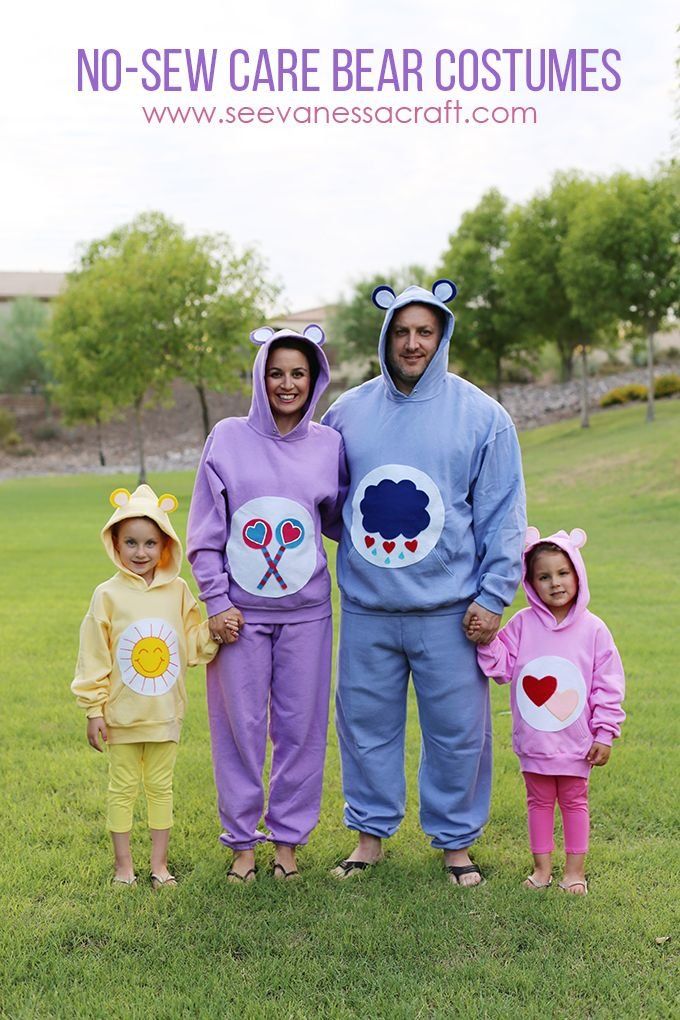 Whether you've been a fan of them since the '80s or are just discovering their new CGI-animated television show, show your kids that sharing is caring with these cuddly bear costumes.
We also asked our Facebook fans to submit their spooktacular group costumes to us:
11. The X-Files
Fascinated by supernatural phenomena? A Mulder, Scully and alien baby costume is just your speed.
12. Up
We've seen a lot of costumes inspired by Pixar's heartwarming film, but this might just be our all-time favorite thanks to the incredible attention to detail.
13. Frozen
The "Frozen" excitement hasn't melted off quite yet—live out your little one's Princess Anna and Olaf fantasies for the day.
14. Football Team
If watching football is a sacred Sunday tradition in your family, then it doesn't get any better than dressing up as your beloved team (complete with head coach, of course).
15. Zootopia
Officer Judy Hopps, Nick Wilde and Assistant Mayor Bellwether reporting for duty!
16. Star Wars
The Force is strong with this family—that's the sweetest Yoda we've ever seen.
17. Where the Wild Things Are
The beloved children's book by Maurice Sendak is perfect for the child who's wild at heart.
18. Cat in the Hat
Dr. Seuss fans, bring the author's iconic storybook characters to life by dressing up as mischief-makers Thing 1 and Thing 2, along with their ringleader, the Cat in the Hat.
19. Duck, Duck, Goose
​Everyone's favorite childhood playground game makes for a super clever Halloween ensemble. 🐥
20. Willy Wonka's Chocolate Factory
Get your sweets fix this Halloween with Willy Wonka, Oompa Loompa and Wonka Bar costumes. 🍫
21. The Fairly OddParents
For a last-minute family getup, all you need are wings, crowns, and star wands to pull off fairies Cosmo and Wanda, along with their godchild Timmy Turner. ✨
22. Winnie the Pooh
Journey to the The Hundred Acre Wood this Halloween as Eeyore, Piglet, and Tigger, some of the most beloved characters in all of children's literature.
23. Popeye
Based on a comic strip, Popeye the sailor man and his lovely family (Olive Oyl and Swee' Pea) are a charming and retro choice for Halloween.
24. Guardians of the Galaxy
Protect the universe from threats across all space by suiting up as Marvel superheroes such as Groot, Gamora and Rocket Raccoon.
25. Skeleton Family
Bad to the bone—these trick-or-treaters nailed their macabre yet family-friendly Halloween look.
26. Spaghetti and meatballs
Food-themed Halloween costumes never fail to put a smile on our faces and this one was amore at first sight.
27. Unicorns
We can't get enough of this brood's colorful and inventive onesie costumes, which are perfect for families celebrating Halloween in a colder climate.
28. Circus Performers
Come one, come all to witness the greatest show on earth, and be prepared to be spellbound by wondrous surprises for young and old.
29. Sushi Dinner
Get ready to wok and roll with this clever getup inspired by your favorite takeout.
30. Hufflepuffs
Whether you're Team Gryffindor or Team Slytherin all the way, rep your Hogwarts house of choice, like these Hufflepuff wizards, complete with a Mandrake baby.
31. Little Red Riding Hood
The European fairy tale never fails to delight on Halloween, and this family's take on the Big, Bad Wolf is true to the story without being too scary.
32. Zookeepers
Monkeying around is definitely encouraged on Halloween.
33. Wizard of Oz
I don't think we're in Kansas anymore, Toto—this cowardly lion and crew epitomize family Halloween #goals.
34. The Little Mermaid
Everything truly is better under the sea... take it from this family. 🧜♀️
35. Medieval Characters
Renaissance-themed costumes are a unique alternative from the standard ghouls and witches that you'll encounter each Halloween.
36. Pirates
Ahoy, mateys, and welcome aboard with your mermaid baby in tow.
37. Prisoners and Guards
This is the one day of the year where your kids will actually encourage you to lay down the law.
38. 101 Dalmations
Arguably one of the best Disney villains of all time, your entire family won't be able to resist this adorably wicked costume idea featuring Cruella de Vil and her spotted pups. 🐶​
39. TLC
Don't go chasing waterfalls.
40. Mickey and Minnie Mouse
Mickey, Minnie, and friends might be simple costumes to pull together but they're big on "awww" factor.