Eva Longoria's post about juggling work + breastfeeding is on point
Did you feel supported at work when it came to breastfeeding or pumping, mama?
Whether your mama is a celebrity of not, when baby's gotta eat, baby's gotta eat. Check out these recent photos shared by Eva Longoria Baston, who gave us a glimpse into her own reality as a working mom/executive producer.
The photos show Eva caring for her son while working on set. And if there's one thing all mamas can relate to, it's the non-stop multitasking our role requires.
In the photos, which Eva shared on Twitter, the multi-hyphenate can be seen working behind the scenes on the ABC show Grand Hotel, on which she serves as executive producer. Eva sits in on meetings, stands behind the camera and works with other crew members…all while nursing her son, Santiago. It's an amazing, inspiring display of what mothers juggle on a daily basis.
And the fact that she shared this look at her life with her followers means a lot to moms everywhere who are struggling with endless feedings, taking care of a million things at once, and public breastfeeding in a society that doesn't always normalize the act.
"Here are pics of me directing while breastfeeding Santi during filming of @GrandHotelABC," Eva captions her post. "Women multitask everyday & I was lucky to have an amazing crew & cast that supported my new motherhood + career goals!"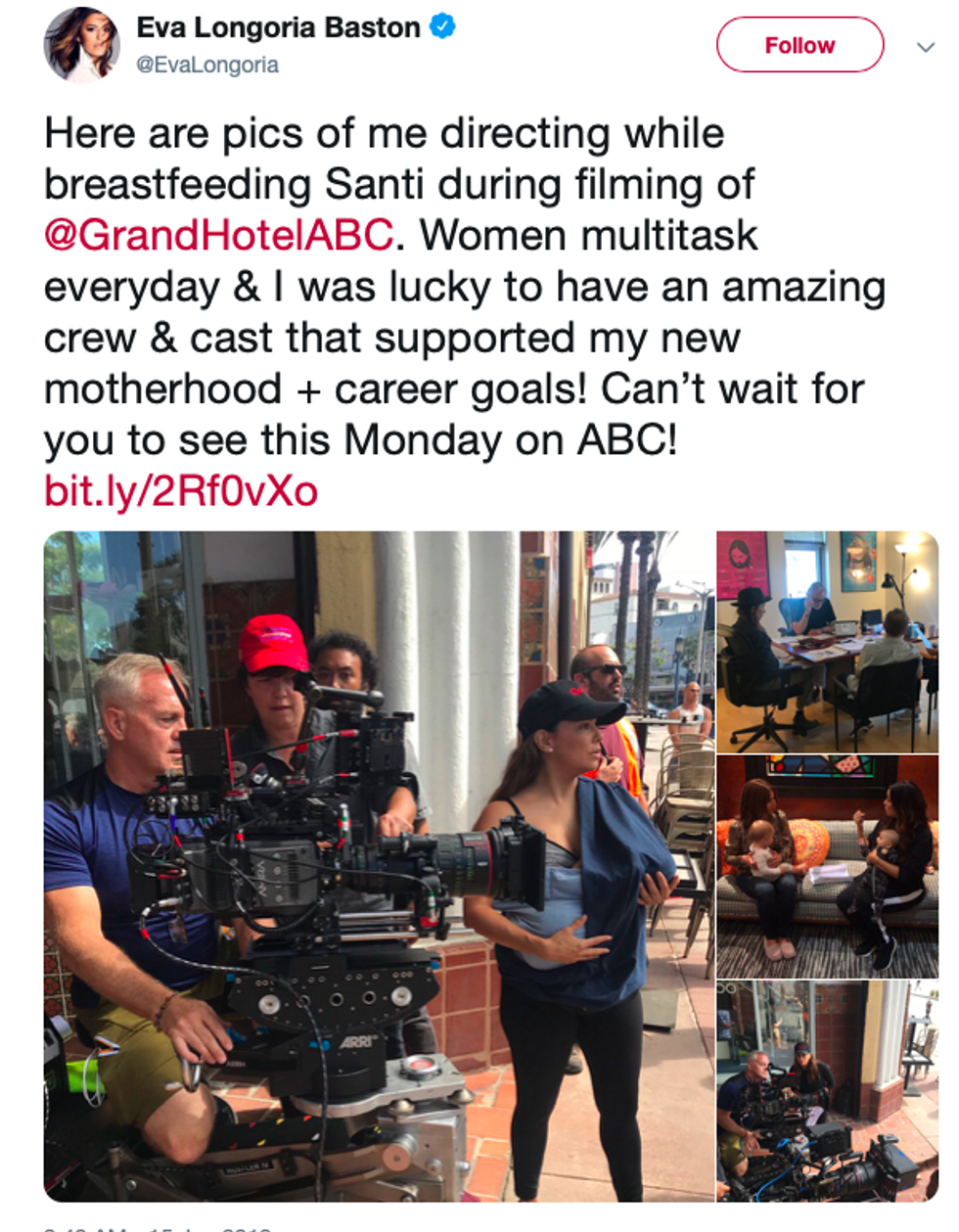 We love how Eva shouted out her crew because she's totally right: Having supportive colleagues helps a ton. Research shows that support from coworkers is essential for breastfeeding moms.upport from coworkers is essential for breastfeeding moms. We need people on our side who understand why we are taking a pump break or a scheduling a nursing session.
Now, we have to mention that in addition to being a rockstar mom boss, Eva is also incredibly lucky. She has the power to bring her baby to work with her, after all, and that privilege isn't available to many moms out there. But there are elements of relatability here: Whether you're nursing a baby while working from home, frantically pumping between meetings, breastfeeding while attempting to entertain a toddler, or washing endless bottles to send to daycare while getting yourself ready for work, you can probably understand what it's like to feed a baby while tending to all the other things you have on your plate.
We know that many moms struggle to breastfeed at work because the workfplace isn't always conducive to the act—and even celebrity moms can fall victim to this (see: This raw post from Hilary Duff). But while Eva may be fortunate enough to have a setup that allows her to breastfeed at work, make no mistake: What she's doing is not easy. We applaud her for showing the world what being a multitasking mother really looks like.
You might also like: