"The midwives and nurses were so invested in helping me not only become a mom but also a lawyer," said Hill.
CNN/Courtesy of Brianna Hill
We know this woman is going to make one heck of a mama AND an attorney!
Brianna Hill had originally planned to take the Illinois bar exam when she was 28 weeks pregnant. She told CNN, "due to the pandemic, the test was pushed to October and I was going to be 38 weeks. I joked about taking the test from my hospital bed. Lesson learned!"
The new, virtual format for the bar exam included four 90-minute sessions, to be taken over the course of two days. Each attorney needs to remain in front of their camera for the entire test to discourage cheating.
Hill says that she was halfway through her first session when she felt her water break.
"But I couldn't go check and so I finished the first section," she said. "As soon as I stood up when I finished, I knew my water had broken."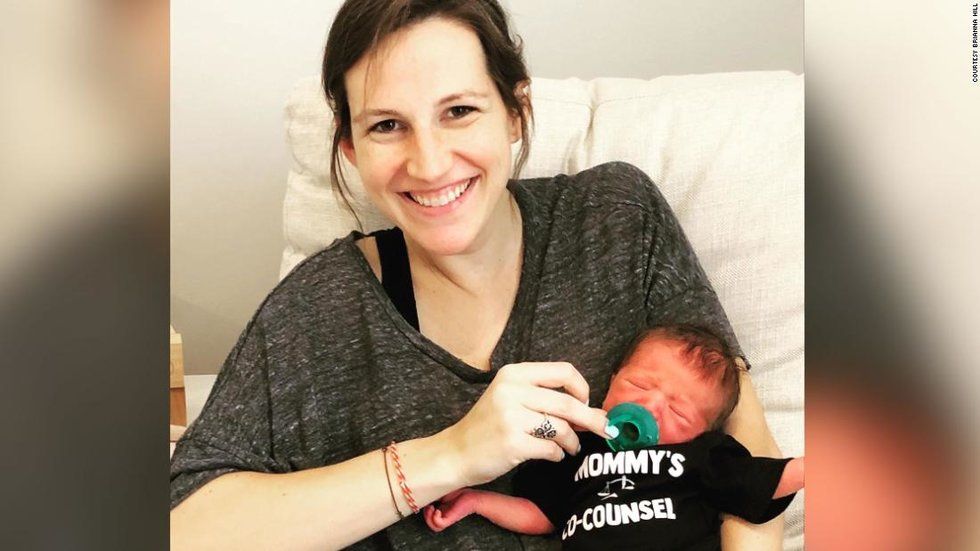 www.cnn.com
During the exam break, Hill cleaned herself up and called her husband, midwife and mom. When her midwife assured Hill she still had time to get to the hospital, the new graduate of Loyola University School of Law sat back down and finished the second part of her exam.

Intelligent? Check. Calm under pressure? Check and CHECK.
Hill and her husband checked into the hospital at 5:30 pm and their little boy arrived in the world just after 10 pm.
"The whole time my husband and I were talking about how we wanted me to finish the test and my midwife and nurses were so on board. There just wasn't another option in my mind," Hill said.
The next day—again, less than 12 hours after giving birth—Hill finished the remaining two portions of her test, from her hospital bed.
Hospital staff hung a "Do Not Disturb" sign on her door and she even nursed her son during breaks.
Congrats JD & new mom Brianna Hill on the birth of her baby & completing the bar. We're extremely impressed by how… https://t.co/pBVpEIHYu0

— National Disabled Law Students Association (@National Disabled Law Students Association)1602342733.0
Now that is one dedicated professional! And it just illustrates how powerful women are.

"I'm so thankful for the support system I had around me. The midwives and nurses were so invested in helping me not only become a mom but also a lawyer," said Hill.
According to CNN, Hill won't learn her exam results until December but she already has a job lined up. Any firm would be lucky to have such a resilient and committed attorney.
We're sure she'll make an excellent mama, too.
From Your Site Articles
Related Articles Around the Web
Jamie Orsini is an Emmy Award-winning journalist, military spouse, and a mom to two busy toddlers. In her spare time, Jamie volunteers with the Solar System Ambassador program with NASA/JPL and reads anything she can get her hands on. She's currently working on her first novel.