The day I stopped hiding my postpartum body from my husband
My body is recovering from the 60 pounds I gained during my pregnancy. Where I was once tight and toned, I now have saggy areas, stretch marks and a stomach pouch. Sometimes it's hard to recognize myself in the mirror.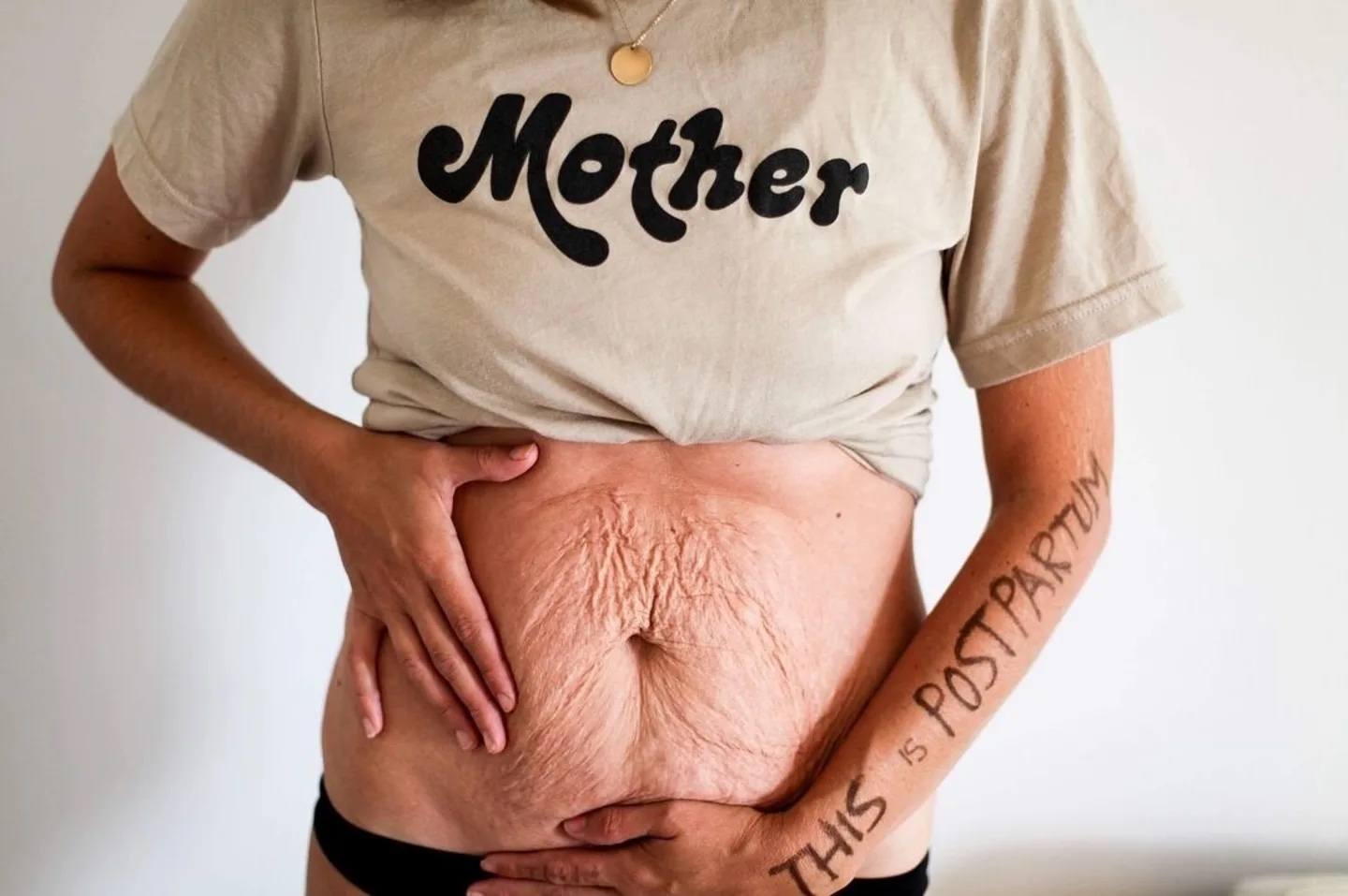 Confession: I've been hiding my stomach from my husband.
Since I've had our second child in as many years, I frequently wear loose tops, and have been known to wear my fluffy robe around the house more often than not. When my husband greets me in the bathroom post-shower, I quickly wrap a robe around myself. And the lights at sexy time? Well, I'm working the dim setting pretty hard.
But hiding a part of myself from him—the part that helped grow the babies we made together—has started to feel like a secret I no longer wanted to hide.
And recently, a few words from him, this man I love, helped transform me from hiding woman to proud mama.
So here's the undeniable truth: I'm two and a half months out from birthing baby number two. My body is recovering from the 60 pounds I gained during my pregnancy. Where I was once tight and toned, I now have saggy areas, stretch marks and a stomach pouch. Sometimes it's hard to recognize myself in the mirror.
But life goes on and so must I.
Plus, my sister is getting married in a few weeks, and even though I'm not emotionally ready yet to buy a swimsuit for her destination wedding, Vegas awaits. So off to shop for swimsuits I went.
"Do you think this is okay?" I asked, holding up a suit to show a friend. "It has full coverage in the back, and these ruffles will hide my stomach."
(Full coverage? Ruffles to hide things? When did this happen to me?)
I decided to try the one piece on when I got home, and of course right when I slipped it on I heard his keys jingle in the door. I had to make a quick decision. Run into our bedroom to change, or keep the bathing suit on to show him? Realizing that I wouldn't be able to run and change in the 10 seconds it would take him to get inside anyway, I realized: I was caught.
And there I was, one cold winter's day in New England, in my postpartum one-piece glory.
"Wow!" He said grinning as he walked in. "You look absolutely gorgeous. New suit? You look great."
I felt so relieved. And encouraged. As I looked at him, I noticed the look on his face—he looked so in love. With me. In my old-lady suit. With the ruffles and the full booty coverage.
And instead of fear, or shame, or wistfulness for the way I used to be, instead I just melted.
There I was, far from the 5-foot-11, 135-pound college girl he fell in love with, awkwardly standing in front of him, unsure of myself. And there he was, looking at me like I was Queen of the World.
That was the moment that transformed me.
My husband sees changes in me—changes that I sometimes struggle to fully see and accept.
My body is definitely different now than it was then. I am different. And we are so different, too. We are a family.
The beautiful thing about being with the one you love is promising to do it forever. And getting to see a kinder, lovelier version of myself than I might allow—through the eyes of this husband of mine.
We started this thing when we were barely out of college and didn't have a clue. Nearly a decade later, we're parents with master's degrees who have each made a career change. We own a home and deal with the nitty-gritty of making our finances work. We worry about real-life problems, not just where we're going drinking Friday night. We're growing up together. We have some life experience under our belts. And yes, we have some extra skin under our belts, too. (Well, I do.)
So now I'm owning the changes.
My breasts have been nursing for two years. My arms have been busy lifting car seats, my back giving pony rides. My face has been crinkling with laughter and proud smiles. I have been wringing my hands with worry. I sleep less, spending late hours writing at my computer and early mornings nursing our new baby.
But I have so much love in my heart. My life feels full. Full of happiness and contentment and craziness and poopy diapers. And potty training and tantrums and spit-up.
My hips are full too. Oh yes, and my waistline. These things will change; such is the ebb and flow of gaining and losing weight.
But our love won't change because of these things. Because we are more than superficial changes at this point in our lives.
So to my ruffled, full-coverage swimsuit, I say thank you.
Thank you for giving me this moment of clarity. For reminding me that my marriage is more than the number on the scale, and our mutual attraction is more important than how we looked at 22.
Our love is big.
Bigger-than-my-stretch-marks big.