How to dress your bump during the second trimester
4 styling tips to help you dress your growing bump.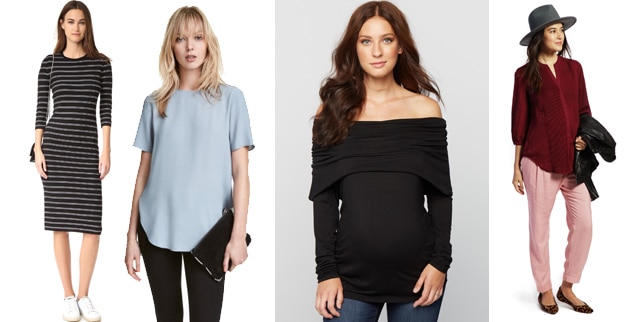 The second trimester is a sweet spot during pregnancy: baby is safe, the secret's out to family and friends, hormones are raging in all the right ways, and your little squishy bump begins to take shape. That said, it's still tricky to get dressed. While buying a new wardrobe may initially sound fun, I don't advise breaking the bank on clothes that fit for a short season of life. So how do you style your bump and keep your credit card bill on the low? One word: strategize.
Now that you don't have to hide the bump anymore, here are 4 tips to dress with style and comfortably during your second trimester.
SHOP SMART.
There is no reason why you can't shop for non-maternity clothes, but you need to be smart about the silhouettes that you pick. Items with lycra, that are shapeless, or bottoms with elastic waistbands will work. Not only will they last you throughout pregnancy, but you'll be able to wear them afterwards.
1. Zara Knit Dress. $69.90, buy here.
2. Theory Striped Dress. $415, buy here.
3. Endless Rose Drawstring Pant. $85, buy here.
ADD LENGTH.
As your bump continues to grow into the 3rd trimester, your non-maternity tops will slowly start to creep up. Purchasing a few long layering pieces gives flexibility with your existing items.
1. Lush Tunic. $27.90, buy here.
2. Aritzia Sevres blouse. $95, buy here.
3. H&M Creped top. $14.99, buy here.
GO FOR IT.
Pregnancy is a time to celebrate your body and show it off with confidence. You are growing life after all. If not now, then when?? Take this opportunity to embrace tighter silhouettes.
1. ASOS Knit Dress, $31, buy here.
2. Isabella Oliver Dress. $145, buy here.
3. A Pea in The Pod Off The Shoulder Top. $48, buy here.
INVEST WISELY.
Investing in a few higher-end maternity brands will breathe newness into your wardrobe, while guaranteeing to make your life easier when getting dressed. Truth be told, you will wear these items with such frequency, the return on investment will be worth it.
1. Hatch Collection Pinafore Overall. $278, buy here.
2. J Brand Maternity Jeans. $228, buy here.
3. Loyal Hana Tuxedo Top, $112. buy here.
Shop the post: