What I didn't know about CBD for sex (but I'm so glad I do now)
Just like caffeine can be the elixir that helps you start your day, CBD can be the one that helps you finish it.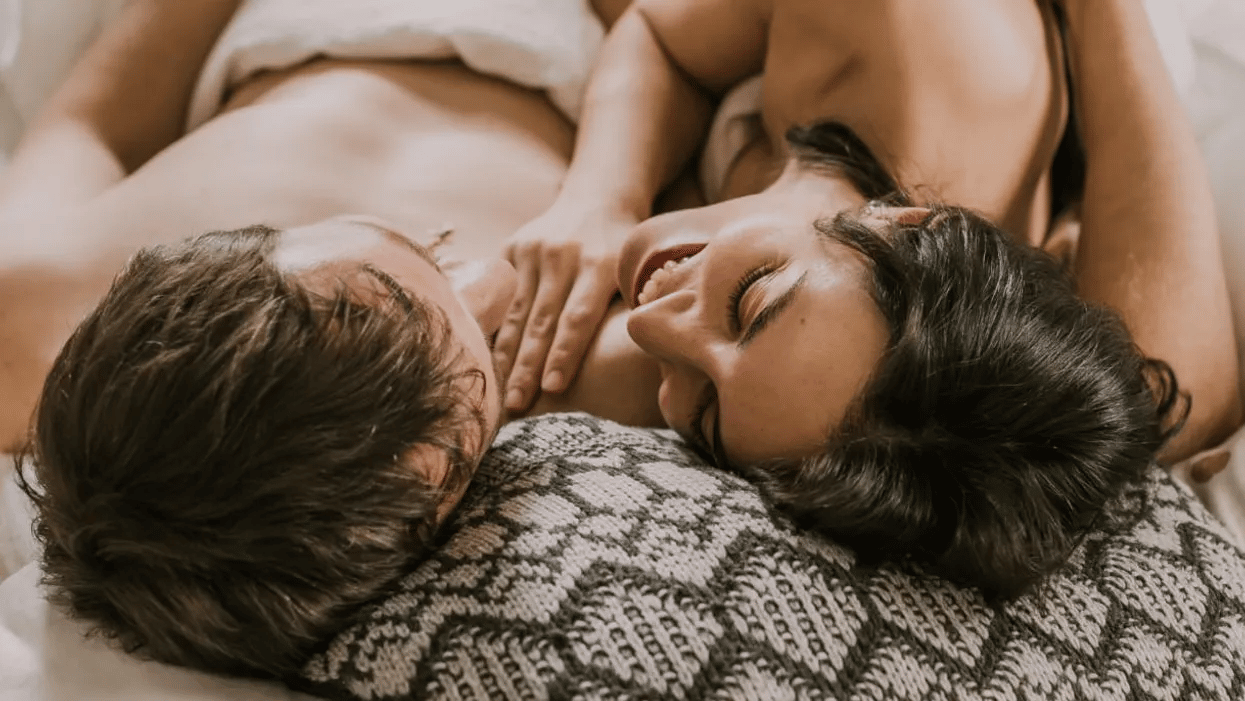 We independently select and share the products we love—and may receive a commission if you choose to buy. You've got this.
Sometimes the anticipation of sex can be more akin to dread than thrall. Maybe life is clipping along and you're feeling fine, but oftentimes that just is not the case, and the fallout can be stress that affects not only your daily life, but your nightly one, too.
In some cases, coordinating your head, heart and body to really get into your sexual groove might need a little help. And just like caffeine can be the elixir that helps you start your day, CBD can be the one that helps you finish it. Here's what I didn't know about the benefits of using CBD—and specifically, CBD gummies for sex and boosting libido—but I'm so glad I do now.
What is CBD?
The cannabis plant, Cannabis sativa, also known as marijuana, has been used as a medicinal plant for thousands of years. The two most prevalent and commonly known cannabinoids in the cannabis plant are delta-9-tetrahydrocannabinol (THC) and cannabidiol (CBD). These active compounds are known to exert powerful anti-inflammatory, immune response, psychoactive and pain relieving effects through the activation of cannabinoid receptors found throughout your body.
Related: 4 CBD products that will completely upgrade your nightly routine
How does using CBD for sex work?
Your body has an endocannabinoid system (ECS) that produces its own cannabinoid substances that bind to tiny receptors found in your central nervous system and other peripheral tissues, including your sexual reproductive organs, switching them on or off to regulate a variety of functions including sleep, appetite, pain, inflammation and immune response. Both CBD and THC are chemically similar to your body's endocannabinoids. This allows them to interact with your cannabinoid receptors to effectively enhance these systemic functions.
Related: 11 must-try sex toys for yourself—or with a partner
Will CBD gummies make me high?
No. CBD and THC can both bind to the receptors in your brain, but they operate in opposite ways. In general, THC activates these receptors, causing the euphoria associated with marijuana, and CBD blocks any intoxicating impact caused by the receptors, so you don't get high. And even though CBD doesn't produce psychoactive effects, research has indicated it may boost your mood by enhancing your own endorphin-like neurotransmitter, anandamide, and the love hormone, oxytocin.
Related: 5 sex-positive apps we wish we'd found years ago
Why use CBD gummies for sex?
Most of us associate CBD as a natural remedy used for many common afflictions. But most of us are not aware that the potential therapeutic effects of CBD can also be beneficial in the bedroom. Research suggests that the same mechanisms can work to boost libido and increase lubrication.
Related: Is your libido lower than normal? This may be why
How is CBD good for sex?
There are many cannabinoid receptors in your reproductive organs and sexual tissues. When ingested, CBD can enhance your experience by reducing anxiety that can be distracting and inflammation that can cause discomfort, allowing you to focus on pleasure. When applied topically, CBD also can help relax blood vessels to increase blood flow to your sexy bits to enhance arousal, sensitivity and lubrication. While not fully understood, if you struggle with dryness and painful sex, using a lubricant that contains CBD, such as a CBD oil lube can improve sexual performance and relieve pain.
Related: Here's why you might be having pain during sex, according to experts
So whether it is stress, anxiety, dryness or discomfort that stands in the way of a randy romp in the hay, CBD is uniquely capable of addressing each and every concern that amounts to your sexual wellness. And by relaxing muscles, easing tension and managing pain, it could be a game-changer for you postpartum.
Want to know what the best CBD products are for getting your groove on? Check out our top picks below.
Editor's Note
Editor's note: If you're currently pregnant or considering getting pregnant, talk with your doctor about the risks of using CBD products. The Food and Drug Administration (FDA) advises against the use of cannabidiol (CBD) in any form during pregnancy or while breastfeeding. Nonprescription CBD products are not FDA-approved, and may be inaccurately labeled.
Hemp-derived CBD products (with less than 0.3 percent THC) are legal on the federal level, but are still illegal under some state laws. Check your state's laws and those of anywhere you travel.
Sources
Chauhan NS, Sharma V, Dixit VK, Thakur M. A review on plants used for improvement of sexual performance and virility. Biomed Res Int. 2014;2014:868062. doi:10.1155/2014/868062
Crippa JAS, Derenusson GN, Ferrari TB, et al. Neural basis of anxiolytic effects of cannabidiol (CBD) in generalized social anxiety disorder: a preliminary report. Journal of Psychopharmacology. 2011;25(1):121-130. doi:10.1177/0269881110379283
Klumpers LE, Thacker DL. A Brief Background on Cannabis: From Plant to Medical Indications. J AOAC Int. 2019;102(2):412-420. doi:10.5740/jaoacint.18-0208
Leweke FM, Piomelli D, Pahlisch F, et al. Cannabidiol enhances anandamide signaling and alleviates psychotic symptoms of schizophrenia. Transl Psychiatry. 2012;2(3):e94. Published 2012 Mar 20. doi:10.1038/tp.2012.15
Magon N, Kalra S. The orgasmic history of oxytocin: Love, lust, and labor. Indian J Endocrinol Metab. 2011;15 Suppl 3(Suppl3):S156-S161. doi:10.4103/2230-8210.84851
Mouslech Z, Valla V. Endocannabinoid system: An overview of its potential in current medical practice. Neuro Endocrinol Lett. 2009;30(2):153-179.
A version of this story was published October 17, 2021. It has been updated.