Holiday cards have become a big deal. Families go for professional shoots and put a lot of pressure on themselves to create the perfect, memorable card—and we get it, mama! You want to show off your adorable family. If you're not a fan of matching outfits, having coordinated looks can help you achieve the perfect picture.
Here are a few tips to get you started for selecting outfits:

Settle on a color palette
Think about groupings of three colors that work well. Navy, cream and yellow for example. Or red, white and black.

Mix up textures + patterns
Avoid everyone in solids and cotton fabrics. By doing this, you'll add some visual interest to your pictures as well as dimension.
Consider the overall vibe you're looking for
Do you envision these photos to be formal and more traditional? Or more casual, or even in pajamas?
Keep in mind the location
The setting is important. Is it inside in a photo studio or your house? Or perhaps outdoors?
Here are some great places you can find coordinating family outfits!
1. Hanna Andersson
For a casual, yet put-together vibe. Everyone will look warm and cozy.
2. Target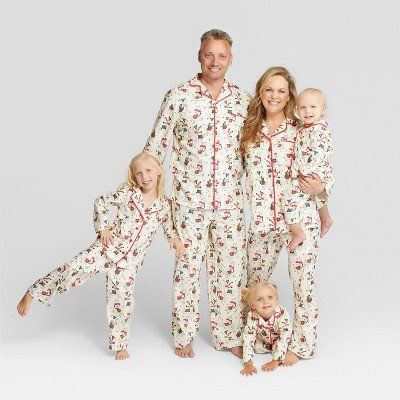 Everyone loves a pajama party! Snuggle up by the fire and capture some photos with these cozy jammies.
3. Gap
Start with you, mama. Pick a statement piece like this dress, then coordinate everyone else around you.
4. Old Navy
Going for a casual, outdoor vibe? Get matching puffer vests for the whole family.
5. Janie and Jack
Cable knit is always a great place to start. Everyone can pull in this pattern with sweaters, scarves or even dresses. This is an adorable option for your little man.
6. Amazon
Trying to pull it together for this weekend? Amazon to the rescue with some great mommy and me matching options.
Motherly is your daily #momlife manual; we are here to help you easily find the best, most beautiful products for your life that actually work. We share what we love—and we may receive a commission if you choose to buy. You've got this.

You might also like: